Have you ever wondered about the statement when folks say…"it's a state of mind"? Well I have to tell you, I now understand. We spent the morning traveling from San Antonio to our Harvest Host location near Fredericksburg, TX. The boondocking campsite was superb; in a field with a awesome view of the night sky. After we parked and set up we spent some time exploring the area in Downtown Fredericksburg (Home to Chester Nimitz). The area is chock full of wineries and cool shops.  The area was settled by German immigrants….so Sharon was finally able to find a decent bratwurst (outside of Wisconsin). Then it was onto chatting with the animals (especially the steer) located at our Harvest Host camping spot. This part of Texas is full of spirit and very caring people. They are firm in their friendships, family and beliefs. Bankersmith and Luckenbach are more than physical places, they are "that state of mind". We felt very at home with the places we visited and the people we met. Dinner was was had with fast friends (Gene and Jennifer from Austin) we met at the Harvest Host at Bankersmith Honkytonk. The steak was fantastic……and the bull"s balls were OK…. but the people we met and sang with were the absolute highlight. I would also be remiss if I did not mention further, Luckenbach. I can only imagine Waylon and Willy picking with friends. On a side note…What has struck me as we traveled throughout Texas, is that every time you see an American Flag, you see a Texas Flag. I mentioned this to many of the folks we met and hung out with and they all talked about the the pride they feel in their State. I was impressed and felt very included by them.
our camping spot for the night…….boondocking in a farmer's pasture

Fredericksburg pics…..
Dwight found a Hawaiian shirt store……he bought 3!!
Sharon Finally found good bratwurst outside of Wisconsin!!!
The Wine Garage…..wines and cool cars……
Luchenbach…..a state of mind…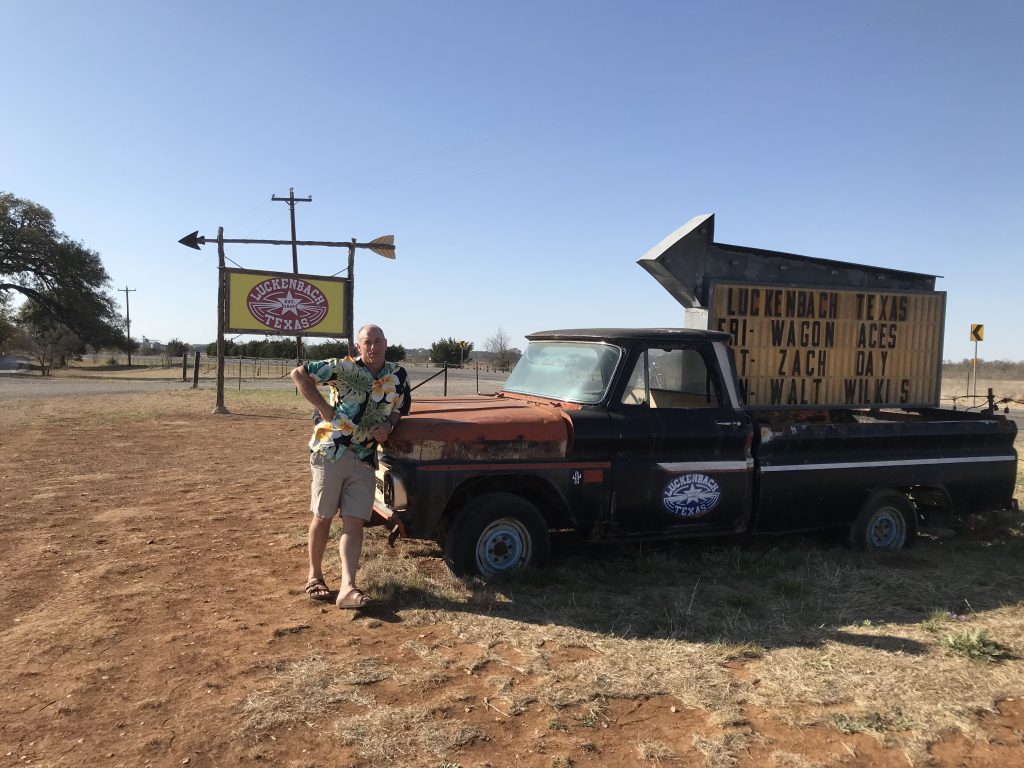 Bankersmith TX….. a true Texas Honkytonk…..good food, drink, music and most importantly…good friends!!!
It is finally time for bed!!! Off to our humble abode and the sounds of nothingness under The West Texas Sky.