Just a cool day of driving and checking things out along the way. It was very windy the entire way; as it has been since the middle of Texas. Steady 15-20 mph wind with gusts between 30-40 mph. We need a "Super C" RV. Maybe in the future??
Soon After we left the KOA at Holbrook we stopped at "Geronimo, the worlds largest petrified tree", Hmmm??? Geronimo (the tree) and the associated tourist trap were well worth the stop. We bought our first "travel magnet" there. It is what all "tourist traps" should be. They have been in business since 1962 and have very cool stuff. NOTHING FROM CHINA!! All American and locally made. The staff were outstanding and the time we spent super fun. If you want a plastic cactus or a real deal Indian purse, this is you place. Something for everyone.
From Geronimo we headed further west on I-40 to Winslow, AZ.  "It's a girl my lord in a flat bed Ford slowin down to take a look at me". Spent some time checking out this iconic downtown and having some breakfast. The Flatbed Cafe is a must stop for a Santa Fe Skillet and French Toast (kids plate…for Sharon).
From the iconic Town of Winslow we headed to see the Meteor Crater. The site is on privately held land and has been open to the public since the 30's. The site is, amazing to see and learn about. Approximately 50,000 years ago a 150 ft wide meteor (made mostly of iron and weighing several thousand tons) slammed into the ground at about 26,000 mph and created the depression in the earth.
The depression is about 550 ft deep and a mile across. The Apollo 11 Mission Crew trained here for the flight to the moon.
From the crater it was on to Williams, AZ and the Grand Canyon RV Park where we spend the next few days checking out the Grand Canyon area.
By the way…it is going to be about 20-25 degrees overnight at the RV park…yikes.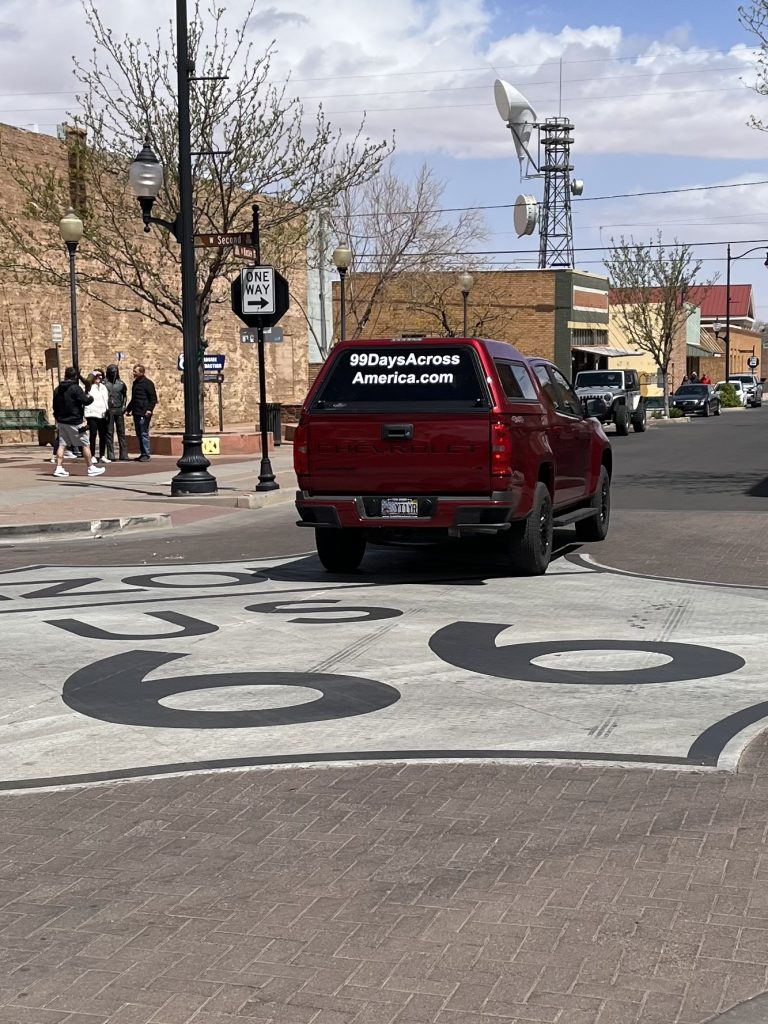 Brrrr